Zurück
Zuzana J. ist nicht abonniert
Entdecken Sie das Profil von Zuzana J., aus Komorní Lhotka (Moravian-Silesian Region, Czechia)
Zuzana J.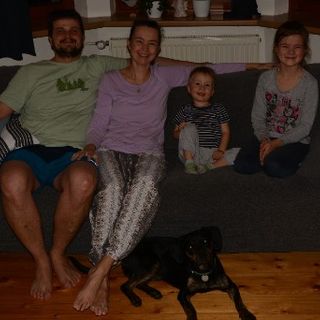 Vertrauensprofil
8
Überprüfte E-Mail-Adresse
Personalausweis
Führerschein
Versicherungsnachweis
Stromrechnung
Überprüfte Bankdaten
7

5

4
Wichtigste Kompetenzen
Identität
Mein Alter:

42 Jahre

Mein Beruf:

mother, municipal project work

Meine Stadt:

Komorní Lhotka

,

Moravian-Silesian Region,

Czechia
Mitreisende(r)
Jiri, 43 Jahre, forestman, Ehepartner(in) / Partner(in)
Barbora, 11 Jahre, Kind
Jakub, 5 Jahre, Kind
Bewertungen der Gemeinschaft
7

5

4

4

3

3

2

2
Empfehlungen
Von Pierrette P., am 14.04.2023
Famille très sympathique, respectueuse des lieux et très attentive au bien-être des mes compagnons à 4 pattes.
Pour une première expérience, elle est très réussie !
Von Camille K., am 06.03.2023
Zusana cared our cat and her kittens, our fishes, our home and our plants during two weeks and everything was perfect. They gave us news very often and we felt very comfortable.
Von Laura C., am 11.07.2022
Zuzana and her family were lovely, we shared a welcome bbq with them and we were very happy to learn about their life in Czech. They took great care of our home, garden and pets - including our 8 chickens, so I can confirm they have a good understanding of how to care for a variety of animals. Our cat and dog seemed to miss them when we arrived home.
Thank you for your care and attention, we hope you had a nice stay!
Von Florence L., am 05.09.2021
Nous avons eu le plaisir de prêter notre petite maison à Zuzana et sa jolie et sympathique famille.
Tout s est bien passé. Malgré notre anglais moyen nous nous sommes bien compris. Nous avons retrouvé notre maison parfaitement rangée et nettoyée, le linge de maison lavé et plié, nos animaux en pleine forme.nous avons aussi eu des nouvelles très régulièrement.
Nous avons pu goûter à un gâteau de leur pays, offert gentiment à leur arrivée. Bref homesitter à recommander sans moderation.
Von Hanta R., am 23.08.2020
Zuzana, Jiri, Barbora et Jakub se sont parfaitement occupé de notre chienne, et de notre chat qui leur a pourtant fait une belle frayeur !
Nous avons retrouvé notre maison aussi rangée et propre que nous la leur avons laissée, et nos compagnons à poils en pleine santé.
Et le plus que nous avons particulièrement apprécié : des nouvelles tous les jours.
Notre seul regret : ne pas avoir eu la possibilité de passer plus de temps avec eux pour apprendre à les connaître davantage, mais ce sera pour la prochaine fois !
Von Marie W., am 16.08.2019
They are a sweet and nice family, taking so good care of your animals and home. Unfortunately, we couldn't spend so much time together, as the overlap was short. I would have loved to spend more time together and show around the area a bit better. Highly trustworthy, independent, tidy and good to your animals!
Von Andre C., am 02.08.2019
La famille de Zuzana a été très propre, organisée, responsable, et soucieuse de ma maison
Von Lina B., am 30.04.2019
Zuzana and her family is very lovely. Even if my house is not furnished for kids they managed to have a good stay with their two kids. And although Zuzana excused herself for her English, communication went very well. I would be happy to let them sit Jason and my house again.
Von Virginie B., am 03.01.2019
Zuzana et sa famille nous ont permis une très bonne première expérience de Nomador. Nous avons retrouvé nos chats et la maison après 10 jours comme si nous y avions vécu nous-même. Avec en prime l'occasion de goûter du miel tchèque.
Von Martin R., am 01.09.2018
Fantastic home sitters Looked after the house, plants and cats perfectly. Very easy to organise the house sitting. They left the house immaculate and they even made us cakes for our homecoming. The cats didn't bother coming to see us when we got home so I suspect they got a lot of attention from Barbora paid them lots of attention. I would highly recommend as homesitters
Von christiane M., am 04.07.2018
Zuzanna est particulièrement attentive à entretenir les plantes de la maison.
D'autre part, elle donne des nouvelles fréquemment.