Pet boarding facilities: what are the pros and cons?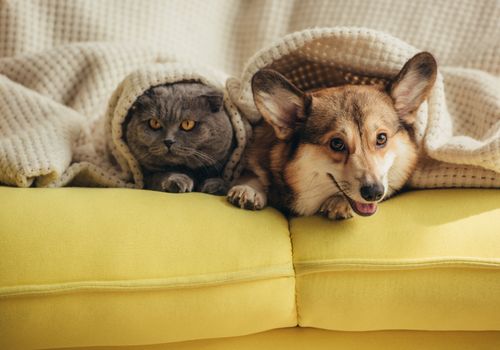 Pet boarding: Advantages, Disadvantages and Alternatives
Are you going to be away from home and need a place to keep your pets? Most owners first think of pet boarding facilities which allow you to entrust your four-legged friends to a professional facility. However, this solution also carries a certain cost. But what if we told you there was a free alternative that's just as reliable? Learn more about house sitting!
How does pet boarding work?
A pet boarding facility welcomes your pet in safety and comfort while you're away. There are various types of accommodations available, depending on your pet's personality. Individual or group areas, small enclosures or even luxury suites, the goal is to make your furry friend feel at home. Pet boarding professionals are trained to ensure the well-being and safety of pets. During their stay, the happiness and health of your pet become the priority of its caretakers.
Advantages of a pet boarding facility
Boarding facilities for dogs, cats and other pets offer certain advantages:
Socialization with animals and humans: If your dog or cat enjoys being around other animals and people, most facilities offer cage-free daycare options during the day to enhance the pet's well-being by cultivating social interactions.
Opportunities for exercise: A boarding facility may offer open spaces for your pets to interact with other animals during daily playtime, but they can also have privacy and quiet time in individual enclosures.
A professional and supervised environment: No one can enter the property except staff and owners. Your pet can rest comfortably and relax. The team is also trained and equipped to handle the specific needs of each pet.
A set routine: Most boarding facilities maintain the same routine (feeding, cleaning, sleeping and going outside) each day to keep the environment healthy and familiar.
Food and medication monitoring: During their stay, your dog or cat will receive adequate nutrition on a regular schedule according to their dietary needs.
What are the disadvantages?
Boarding is not always the best option for your dogs and cats. Some animals have difficulty adjusting, especially cats, since they typically don't like to be moved from their familiar surroundings. Additionally, being locked up for more than a few days can be difficult for those who are used to moving around freely. Some dogs get stressed out by being moved to a new environment as well as by the barking of other dogs which they are sometimes unaccustomed to. Not to mention the total cost of a boarding facility, which is a considerable cost for people who go on extended vacations!
House sitting, the ideal alternative to pet boarding
For smaller budgets or owners who want to have their pets cared for without taking them out of their familiar surroundings, there's a perfect alternative: house sitting or pet sitting. A pet sitter will come to your home and take care of your pets while you're away. Feeding, walking, grooming, caring for, playing with and petting...they'll take care of your four-legged friend as if it were their own. The benefits are many, as it's an economical and reliable solution. And with house sitting services, the person even takes care of your property and/or yard in addition to taking care of your animals. In exchange, they simply stay for free in your home or apartment while you're away for the weekend or on vacation.
Why use house sitting instead of a pet boarding facility?
House sitting ensures that your pets are cared for in their own home. You can leave with peace of mind knowing you'll receive regular updates and photos from the pet sitter. House sitters are people just like you with a passion for animals and travel. They take care of other people's homes in exchange for being able to travel on little money and discover new places. Your pets stay in the home they are used to and enjoy the company of people who give them all the affection they need. And unlike a pet boarding facility, a house sitter also watches over your home! Your property is occupied, which greatly reduces the risk of break-ins or burglaries. Your home isn't left unoccupied and unattended, and you'll return to a clean, heated and well-lit property. This is a very low-cost solution, since house sitters provide their services free of charge in exchange for lodging.
Find reliable and knowledgeable house sitters on Nomador.
The decision to allow a third party to live in your home and take care of your property is not an easy one, but we at Nomador have complete confidence. We rigorously sort through and analyze each house sitter ad to ensure we're only offering you verified and trustworthy profiles. Rely on other members' past experiences and reviews to find the pet and house sitter that best fits your values and needs. Use the internal and secure messaging system to take time to get to know each other, build relationships and travel with peace of mind.
Publish your first listing!
Find someone you can trust to look after your home and pets.