Back
Valerie V. Subscriber
Discover Valerie V.'s profile, from Wetteren (Flanders, Belgium)
Valerie V.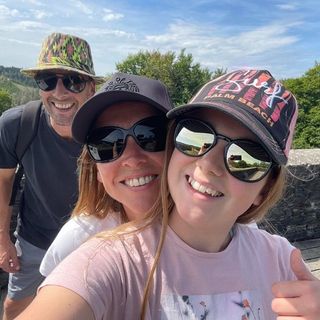 Trust Profile
4
Email address checked
Proof of identity not yet checked
Proof of domicile not yet sent
Bank details checked
Premium Subscriber
ID
My age:

43 years

My occupation:

Digital nomad

My town:

Wetteren

,

Flanders,

Belgium
Travel companion(s)
Tim, 42 years, Digital Nomad, Spouse / Partner
Tess, 11 years, Student, Child
House-sits already booked
From 22/09/2023 to 17/10/2023
From 22/10/2023 to 10/11/2023
More information
Hello,

We are Tim (42 years old), Valerie (43) and our lovely daughter Tess (11). We are a tight family born and raised in Belgium.

After 21 years we decided to sell our house and start travelling around the world. Our main goal is to spend as much time together as a family!!

Tess is home-schooled, is very social and enjoys traveling. She is passionated about animals (all of us are !!) and loves to spend time outside. Tess is used to the daily/weekly chores that consist of being part of a family and caring for a home and pets.

My husband and I are completely independent as we work as digital nomads. We both have our drivers license and we travel by own car. We are a very warm, open and practical family who are extremely responsable and relieble (Police checks of us are available on request). We speak English, French, Dutch and are keen to learn other languages.

We would really love to find house/pet sitting assignments as much as possible during our journey. Because we are all genuine animal lovers and we would simply miss the presence of animals to much by just staying in hotels or rental places.

We ourself have had dogs, cats, fish, chickens, goats and rabbits with us in Belgium. To combine our 2 passions, we are looking for house/pet sitting opportunities to take us out of our old lives and experience living in other countries and locations around the globe.

Our priority is to make sure that an assignment is a good fit for both partys. Therefore we would like to know more about your house, your pets, your neighborhood, and any special conciderations that you might have. We want your time away from home to be as free from worry as possible, knowing that your property and your precious animals are in capable hands.

Everything else can be worked around that as we have no fixed agenda and can live and work anywhere in the world.

We'd like to offer you a reliable and helpful house sitting service for your home and pets.

Please feel free to ask us any questions,

We look forward to hear from you.

Kindest regards,

Tim, Valerie and Tess
Endorsements
By Régine, on 09/18/2023
Famille très sympa. Leur fille adore les animaux, les soigne et les gate. La famille nous a envoyé régulièrement des vidéos où l on avait le plaisir de voir nos animaux en pleine forme. En rentrant nous avons trouvé une maison impeccable, plus propre qu en partant, pelouse tondue, poulailler nettoyé... Nous les remercions énormément pour leur investissement. Famille à accueillir sans crainte, que du plaisir.
By Lucie B., on 08/27/2023
Valérie et sa famille son de très bons Home sitter. Notre chat Shaka est en pleine forme et son poil est bien beau , merci les coups de brosse. La maison est toute propre. Je conseille cette famille très agréable :)
By Christine D., on 08/09/2023
What a pleasure to have a first petsitting with this wonderful, very respectful and frienly family. I think we reached the top for a first experience !!!! It is not easy to leave your animals whom ou cherish with people you don't know. But we were totally confident in Valérie, Tim and Tess after first sight! They spoiled our dog with more walks than she usually gets. Our cats, chicken and ducks were also very very well taken care of. Tess kept our informed almost everyday and sent videos to our daughter witch was very pleasent because we were gone for un entire month. We came back today and is is very relaxing to come home to a picked up very clean space. They took care of our plants too. I highly recommend this family. And something very special : they have a beautiful positive energy and your animals will feel it too and benefit from it when you are gone ...