Back
Brittany W. Not a subscriber
Discover Brittany W.'s profile, house-sitter from Mount Pleasant (Michigan, United States)
Brittany W.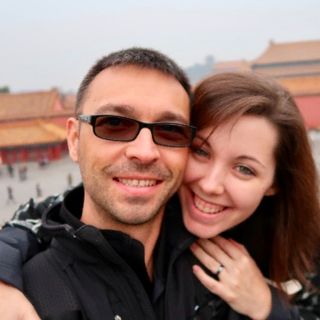 Trust Profile
8
Email address checked
Passport
Insurance certificate
Bank details checked
ID
My age:

31 years

My occupation:

Digital Nomad

My town:

Mount Pleasant

,

Michigan,

United States
Travel companion(s)
Jason, 40 years, Digital Nomad, Spouse / Partner
Favorite destinations
Africa
Asia
Australia
Belgium
Canada
Switzerland
Germany
Spain
Europe
France
United Kingdom
Italy
Morocco
North America
New Zealand
Oceania
South America
United States
Favourite pets and animals
Cats
Dogs
Exotic pets
Farm animals
Fish
Reptiles
Rodents
Endorsements
By Maria N., on 06/02/2019
Brittany and Jason took care of our house and our precious cat Kaori during the most stressful time - our wedding hehe! We had the pleasure of getting to know them over lunch on the day we left and had such a great conversation that almost forgot about our flight!

We had no worries while away and enjoyed our trip. Coming back home we could tell Kaori was happy with Brittany's and Jason's company as she wasn't upset with us much :)

Two days later they joined us for a barbecue and got to know each other even better - we'd certainly like to keep in touch and meet again!

Thank you so much for taking such good care of our cat and our home! It was lovely to meet you guys! Hope we'll get another chance in the near future!
By Nadia H., on 03/26/2019
Jason and Brittany were awesome!!

They are responsible, kind, tidy and homy. We were very satisfied and they did everything we asked for and more. The day of our arrival they waited us with a light lunch and they even cooked dinner for us. We shared a few days together as it was super nice to share life experiences with them. They are open minded and it's easy to communicate with them. Hours passed by so fast while we were catching up. We can say that we found 2 nice friends on them.
We absolutely recommend this nice couple!!
By Valerie L., on 03/03/2019
Brittany et Jason sont adorables! Ils se sont bien occupé de tous nos animaux et ont fréquemment donné des nouvelles. La maison était en ordre à notre retour. Je les recommande et n'hésiterai pas à faire à nouveau appel à eux. Une très belle rencontre.

Brittany and Jason are lovely people. They took perfectly care of all our animals with love and gave us news frequently. I recommand them and would not hesitate to rely on their services another time. We are glad having meeting those new friends.