Back
Solveig L. Subscriber
Discover Solveig L.'s profile, from Düsseldorf (North Rhine-Westphalia, Germany)
Solveig L.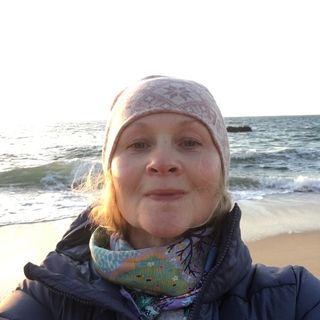 Trust Profile
8
Email address checked
ID card
Passport
Electricity bill
Insurance certificate
Bank details checked
18

14

14
Main competencies
ID
My age:

56 years

My occupation:

analyst

My town:

Düsseldorf

,

North Rhine-Westphalia,

Germany
Travel companion(s)
Kjetil, 55 years, Technician, Spouse / Partner
Community opinion
18

14

14

5

3
More information
!!! Unfortunately due to the injury of leg cannot more/yet be a good companion for dogs and take care of them.
I will be not available for the house-sitting in September.

I am 56 years old, no smoker, rather quiet person, like to keep all things clean and in right order, addicted to nature and books . Through my life I have lived and worked in the different countries and can adopt easily in the place and to the new situation. At the times I have lived in the houses with garden, I used to grow my own vegetables and flowers and have kept some farm animals.

I have spent many years before Covid commuting between Germany and Norway, now mostly staying in France and Germany.

Due to all the travelling I don't have my own animals, but just time from time take care of very lovely dog of my elderly friends when I am in Duesseldorf or of brother's dog of my partner, when I am in Oslo.

I have the same love to cats and dogs, so it is no possible for me to say what I would prefer to take off, actually both, they are like different children .

I discovered Nomador site the middle of April 2021 and I would appreciate if you will give me an opportunity to take care of your property and to do my best to be a good replacement in time of your absence for all your big and little furry and feathery darlings.

I am very thankful to all adoptive parents of animals(dogs, cats, goats, sheep, parrots, chicken, ducks), I have met since I discovered Nomador for their trust and I am humbled by their kind words about me.

You can write to me in French, I understand it well enough in writing, but I am very -very sorry that I answer to you or apply in English. I would love to learn more French and I intend to do it. I know the commands for dog in French and a lot of words for cuddling in Norwegian, German, English, French.

I listed Kjetil as my possible travel companion, but I will explicitly mention by applying if he should travel with me for some days as due to the work demanding his presence is he not so flexible.
I often has thought that it is a pity that Kjetil didn't have an opportunity to study and become a veterinarian as he not just loves animals, but he really understand them.
Kjetil is less in the books, but more in music and sport.
Endorsements
By Bernadette, on 08/23/2023
Solveig in really perfect, very kind and sweet with my old cat, she care about it, send me pictures, si I feel quiet during my holidays. It is easy to have relation with her, and pleasant. When I come back, my home is clean, everything in order. Really Solveig is perfect!
By Francesca D., on 08/07/2023
Solveig is a very lovely person. From the very first contact we felt that we could trust you.
During our absence we have always kept in touch and we have always received photos and updates on our little Tino. She is thoughtful, precise, careful, tidy and very very easy going.
It was very easy to leave the house and Tino in her hands, as if she had always been our roommate.
On our return we found a healthy and happy Tino, who didn't suffer from loneliness, but not only that, the house was clean and tidy and this was a dream after a long journey.

Solveig was a perfect sitter, we feel so lucky to have found her. We hope we can count on you in the future.
By Christel M., on 07/17/2023
Solveig est une home-sitter exceptionnelle ! Elle s'est occupée de mes 3 chats avec beaucoup de tendresses, de câlins et de soins . Ma maison et mon jardin, étaient nickel .Mes vacances se sont passées tranquillement avec des nouvelles et des photos très régulièrement. Ma 1ere expérience chez nomador se révèle excellente !
Je recommande +++++ , Si je pouvais j'aurai sélectionné plus de badges .
Aucune hésitation pour lui confier nos loulous .
By Laura S., on 06/07/2023
Solveig s'est occupée de mes 2 chats à merveille pendant mon absence. Elle a fait les piqûres d'insuline matin et soir, les a brossés et les a câlinés à volonté. Je les ai retrouvés en pleine forme à mon retour. Je suis vraiment contente d'avoir fait confiance à Solveig, cela m'a permis de partir l'esprit tranquille en voyage. De plus, Solveig s'est très bien occupée de la maison et du jardin, et elle m'a donné beaucoup de nouvelles pendant mon voyage. C'était la première fois que je passais par Nomador, c'était donc très rassurant. Solveig est très discrète et autonome. Merci encore, et bonne continuation !
By clara G., on 02/27/2023
Solveig est une home-sitter exceptionnelle. Elle adore les chats et elle c'est très bien occupée de nos 2 chouchous en donnant également beaucoup de nouvelles avec photos et vidéos. Elle est très douce et d une grande générosité. La maison était impeccable et elle nous avait préparé un délicieux repas pour notre retour.
Je la recommande les yeux fermés.
By Sarah, on 01/22/2023
Solveig spent a month at our house looking after our cat Hugo. Communication with Solveig is easy, she follows all instructions about the house etc, and she kept us regularly informed with updates, photos, and videos. She took excellent care of Hugo, who is a friendly cat and wants a lot of companionship - this is another reason why Solveig was a great fit for us. It's obvious that she loves animals and considers their needs at all times. Knowing Hugo is in good hands while we're away is very important to me, and with Solveig here I felt totally at ease. We came home to a happy cat and a spotless house.
By Gilda P., on 12/06/2022
Solveig was my first house-sitter/pet-sitter in Nomador. And she is perfect. I agree to another host that says Solveig is heaven sent. My baby cats are very peaceful and beautiful when I came back home. She sends me news all the time and I feel at ease with her. She is very independent and very interested in how she can be of help. I can't believe how lucky am I to find her. I would love to see and pass some time with her anytime soon, if she is interested to go back to Royan. I hope every host is Nomador would have the chance to meet her or find someone like her to house-sit/pet-sit their family. Thank you again Solveig for being the perfect replacement Mom to my baby cats. I wish her the best and hope she can continue to have good health.
By Didier B., on 10/25/2022
Solveig est une exceptionnelle home sitter.
Elle s'est, une nouvelle fois, remarquablement occupée de notre chat Ramsès et de la maison qu'elle a parfaitement entretenue.
Elle nous a encore donné de très nombreuses nouvelles de notre chat.
Avec Solveig, on se sent vraiment en pleine confiance.
Outre sa remarquable gentillesse, c'est une personne d'une grande humanité et d'une grande discrétion .
Nous pensons qu'il est impossible de trouver une meilleure home sitter.
Solveig est une véritable amie des animaux et une amie tout simplement!
Nicole et Didier
By FREDERIC B., on 09/16/2022
Solveig a gardé nos trois chiens et deux chats 12 jours, elle nous a donné des nouvelles tous les jours, les a chouchoutés comme si c'étaient les siens à tel point qu'ils auraient pu repartir avec elle, les infidèles :-), c'était une première expérience pour nous et nous referons appel à elle avec grand plaisir, nous avons apprécié sa générosité , sa disponibilité, sa grande attention concernant notre maison et ses discussions très ouvertes, vraiment une très très belle rencontre. Merci encore pour tout Solveig , à bientôt surement.
Fumiko, Doudoule, Juju, Samedi et surtout Brice...
By Maryline J., on 08/17/2022
Nous n'aurions pas pu rêver mieux que Solveig pour veiller sur notre chat Brigo. Dès les premiers échanges, Solveig s'est tout de suite intéressée à elle, à ses habitudes, et au fait qu'elle était sourde.

Solveig nous a très régulièrement tenu informés pendant notre absence et possède une grande expérience et connaissances des chats.

Nous avons retrouvés Brigo en pleine forme malgré son grand âge, et il est certain qu'elle a été choyée par Solveig qui lui a apporté toute son affection.
Notre appartement était également dans un état irréprochable, et nos balcons ont mêmes été fleuris.

Un grand merci à Solveig, une personne en tout point incroyable.
By Marie S., on 05/23/2022
Solveig est une perle!
Quelle chance pour ma première expérience avec Nomador....
Moi qui suis inquiète pour mes chats, je suis partie en toute confiance et j'ai profité de mes vacances sereinement.
Solveig s'était préoccupé, avant son arrivée, de connaître tous leurs besoins et particularités.
Elle m'a envoyé des nouvelles tous les jours, et elle a pris le plus grand soin d'eux, de l'appartement (que j'ai retrouvé parfaitement rangé et propre), et des plantes. Sans compter la surprise culinaire qui m'attendait au retour...
Solveig est juste incroyable et adorable!
Elle est bien sûr aussi une personne très intéressante avec qui j'ai eu grand plaisir à échanger.
Un énorme merci de la part de Marie,T'choupi et Grisbouille.
Et on espère, à une prochaine fois...
By Francoise H., on 05/07/2022
C'était vraiment parfait ! Nous avons retrouvé une maison mieux qu'à notre départ. Solveig et son ami se sont très très bien occupés de nos animaux et nos oiseaux doivent les regretter je pense .. c'est avec un grand plaisir que nous retrouverons Solveig si elle souhaite repasser à chinon. Et nous la recommandons sans aucune réserve et j'espère que nous les reverrons
By Elisa K., on 02/28/2022
We were new to Nomador and Solveig is the first person that stayed in our house and took care of our animals. I don't think we could be more lucky! I don't know where to start. More than perfect? She took so much good care of our animals. She did twice a day long walks with our dog she wrote me all about it in details she sent photos and videos regularly; I could relax during my trip knowing she was there. There are so much good things to say about Solveig. To name just a few she planted flowers in our garden and cook some delicious meal to have a good surprise for when we came back. Lovely person and perfect house sitter. I greatly recommend! 100%%! Elisa
By isabelle M., on 02/14/2022
Seconde expérience avec Solveig très satisfaisante.
Nous pouvons partir tranquilles quand elle est là car elle a su créer un lien très proche avec notre chatte et a fait beaucoup preuve d'affection envers elle.
Solveig est une personne pleine d'initiatives et curieuse de découvrir la région.
Elle est aussi bonne cuisinière et ménagère, et également très érudite.
Une Fée !
By Isabelle F., on 01/25/2022
Solveig a été une home-sitteuse parfaite en tout point. Elle a pris soin de mon chat tout comme de mon appartement que j'ai retrouvé dans un état irréprochable. J'avais des nouvelles très régulièrement et ai pu passer un mois loin de chez moi le plus sereinement possible. C'est avec plaisir que je l'accueillerais de nouveau et lui ferais confiance les yeux fermés.
By Isabelle D., on 01/17/2022
Nous avons un peu tardé à partager notre sentiment suite au séjour de Solveig dans notre maison et auprès de notre tribu d'animaux...Nous avons beaucoup apprécié Solveig, qui a pris soin de nos fidèles compagnons, nous donnant des nouvelles tous les jours, avec attention, détails, et beaucoup de délicatesse et de sensibilité. Alors qu'elle avait fort à faire y compris avec le jardin! Nous nous sentions en complète confiance.
Et nous espérons que Solveig pourra revenir chez nous!
By Didier B., on 11/29/2021
Solveig est une personne admirable.
Elle est extrêmement attachante.
Elle s'est remarquablement occupée de notre chat en nous donnant des nouvelles régulièrement ainsi que de la maison.
En un mot Solveig est parfaite comme home Sitter.
Nous espérons qu'elle reviendra nous voir.
Nicole , Didier et le chat Ramsès.
By olivier, on 11/06/2021
Solveig is a dream house sitter, takes perfect care of the house and of the animals while keeping you regularly informed.
Parfaite à tout point de vue
By isabelle M., on 10/18/2021
Solveig est une personne délicieuse, attentive à la maison et aux bons soins de notre chatte, qui a été plus choyée encore ... que par nous.
Elle est curieuse de tout et avide de découvrir la région et aussi très débrouillarde.
Solveig est une personne parfaite pour l'entretien du jardin et de la maison.
Je la recommande vivement car Solveig est une "vraie personnalité", très attachante et qui gagne à être rencontrée... J'espère qu'elle reviendra !
By Elizabeth, on 09/05/2021
Solveig is an exceptional house sitter, our cat still misses her and she took great care of our house and garden with many little extra touches beyond what she had been asked to do. She sent us frequent reports and photos to reassure us that all was well and was very understanding that we were away for work. not always able to reply and she also stayed on when our return was delayed . She is a lovely person, extremely independant and capable with a great sense of responsibility. We would not hesitate to recommend her and we hope to see her again.
By Marine H., on 07/20/2021
Solveig is the nicest person.
She was so invested in the home and cat-sitting that she came to Versailles even tho she was injured and couldn't move around as she would have wanted.
She took very good care of Charlie and of my plants and gave news frequently. I've had the best experience so far with Solveig. She is very friendly and inquires a lot about what are the pet and the owner's needs and goes even beyond.
I can only recommend to have Solveig taking care of your home.