Back
Alex C. Subscriber
Discover Alex C.'s profile, house-sitter from Sanary-sur-Mer (Provence-Alpes-Côte d'Azur, France)
Alex C.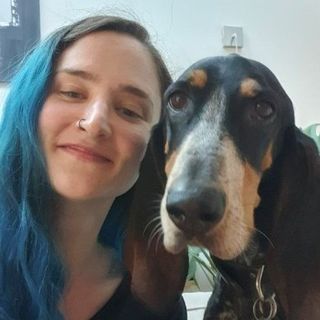 Trust Profile
8
Email address checked
ID card
Other proof of domicile
Bank details checked
Premium Subscriber
ID
My age:

31 years

My occupation:

Freelance en Marketing Éthique

My town:

Sanary-sur-Mer

,

Provence-Alpes-Côte d'Azur,

France
Community opinion
2

2

2

2
More information
Petsitter et house-sitter avec de l'expérience, je travaille depuis la maison et suis prête à prendre soin de vos animaux et votre chez-vous !


Pour la présentation rapide :
Je suis une trentenaire calme, fiable et avide de découvertes, amoureuse de la nature et surtout, une grande passionnée des animaux !

J'ai une grande expérience en petsitting et house-sitting :
Des séjours allant d'une durée de 2 semaines jusqu'à 3 mois, dans différents pays et pour des familles à 4 pattes allant d'1 à 8 animaux à la fois !


Pour la petite histoire :
J'ai créé mon entreprise dans le marketing éthique depuis plusieurs années, je suis désormais ce qu'on appelle une "Digital nomad" (je voyage en travaillant à travers le monde)... J'ai simplement besoin d'une table avec une chaise adaptée, une bonne connexion internet et mon ordinateur !

Ce qui est très chouette pour voyager et découvrir le monde...
Ce qui l'est un peu moins pour ce qui est de pouvoir avoir des animaux !

Ma passion des animaux a toujours eu une place centrale dans ma vie et c'est pour cela que j'en ai toujours eu depuis mon enfance, jusqu'à mon départ en voyage (notamment des chats, rats, poissons, chevaux, chiens et lapins).


En tant que petsitter fiable avec de l'expérience, je continue maintenant de prendre soin des maisons et des animaux de mon entourage, ma famille et pour d'autres en faisant de la garde d'animaux et de maisons.
C'est donc avec grand plaisir si je peux vous rendre service tout en m'occupant de vos animaux le temps d'un instant !

Grâce à ces expériences de petsitting et à mes expériences personnelles :
J'ai de l'expérience dans la prise en charge des chiens de toutes tailles, des chats de tout âges, certains avec des soins ou des besoins spécifiques.
Je pratiquais l'équitation (compétition et monitrice) et j'ai travaillé dans des écuries ainsi que dans des fermes pédagogiques.
Donc, petits ou grands animaux, je suis partante !


Pour en savoir un peu plus :
Je suis une personne calme, sérieuse, travailleuse, fiable, qui fait attention à la propreté, non-fumeuse et végétarienne.
Autre gros point positif : Je travaille depuis la maison, donc présence assurée pour vos compagnons toute la journée !


Au plaisir de se rencontrer !

PS : Je peux vous présenter des avis et des témoignages supplémentaires d'autres sites si cela peut vous aider.
Endorsements
By Frank R., on 09/19/2023
Alex et Rémi ont gardé notre chienne Only ... et notre maison pendant le mois d'août 2023. Tout s'est très bien passé et vous pouvez leur faire confiance pour prendre soin de vos animaux et de votre maison (que nous avons retrouvée impeccable !)
By Mary, on 07/11/2023
Alex and Remy took excellent care of our two cats. We have received regular notifications and photos. Both cats got used to them very quickly and when we returned we were a little angry that Alex and Remy had left. The house was super neat on our return! anytime again with pleasure!
By Iva P., on 07/04/2023
Alex and Remi took care of our lovely zoo of 8 pets for 10 days. My partner and I couldn't have been happier with the way they handled the animals and the house. They kept us informed about every single pet, sent us pictures on a daily basis. They did consult us when more challenging situations occurred, but also were very independent and knew how to take care well of all the different types of pets we have (dogs, cats and bunnies). Also, our two dogs do require special attention as one is old and aggressive towards other dogs, while the other is young and anxious, but Alex and Remi took great care of them and the dogs loved them. We also have one paralyzed cat, needing a diaper change every few hours, which they also took care of amazingly well.
Bottom line: if you really want to enjoy your vacation and not worry about who is taking care of your pets and how well they are taking care of them, if you are looking for someone with experience to know which situations they can handle on their own and which ones require a quick chat/call, if you are looking for trustworthy people to sit your house, my partner and I will recommend Alex and Remi 110%%. Thanks to them we were able reunite with our family after 4 years and go on incredible vacation.
By Rene A., on 03/30/2023
Alex & Remi did an amazing job looking after our three dogs and cat. They spoiled them and cared for them, and even taught them a few new things.

They were very caring and attentive and also looked after the house really well. They stayed in contact and sent lots of pictures, videos and updates. It was also really great to meet them, and I would have them back anytime for a visit and to come to babysit our fur children if they want. I didn't have to worry about the fur kids or the house at all while we were away.

Highly recommended!