Back
Berna C. Subscriber
Discover Berna C.'s profile, from Hurlford (Scotland, United Kingdom)
Berna C.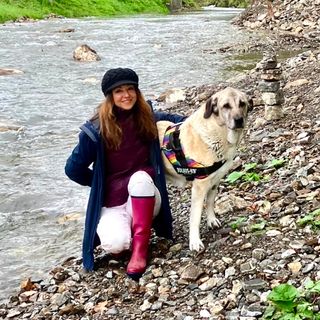 Trust Profile
8
Email address checked
ID card
Driving license
Other proof of domicile
Bank details checked
Premium Subscriber
ID
My age:

52 years

My occupation:

Interior Designer

My town:

Hurlford

,

Scotland,

United Kingdom
Travel companion(s)
Berna, 52 years, Interior Designer, Other
Community opinion
No opinion posted for the moment.
More information
Ich, 51, Interior Designerin/Buchautorin habe langjährige Erfahrung mit Rescue Animals, Homesitting, Gartenpflege, Renovationen denkmalgeschützter Liegenschaften. Hatte Pet Hochlandrinder und bis vor Kurzem, Schafe, Katzen, Hunde, die altersbedingt Engel geworden sind.
Ich, Schweizerin bin in Schottland und in der Schweiz wohnhaft, davor lebte ich 6 Jahre in Schweden. Tiere verdienen Aufmerksamkeit, Lob und Achtsamkeit.
Ich arbeite selbstständig im Homeoffice und gestalte die Freizeit, wie ich möchte.
Liebe Tiere, Natur, Walken, koche vegan/vegetarisch, achte auf Nachhaltigkeit und geringen Wasserverbrauch.
Ich habe Erfahrung in Haustechnik, mein letztes Projekt war die Renovation eines Schlosses.
Freue mich auf Tier und Haus zu achten und inklusive Wildtiere drumherum Sorge zu tragen.