Back
Andreas M. Subscriber
Discover Andreas M.'s profile, house-sitter from Amberg (Bavaria, Germany)
Andreas M.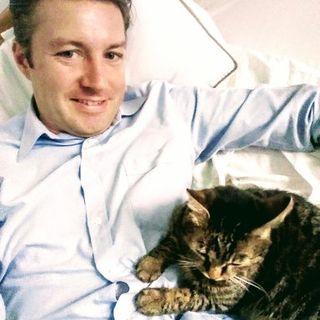 Trust Profile
8
Email address checked
Passport
Other proof of domicile
Bank details checked
ID
My age:

46 years

My occupation:

Lawyer, Translator, Writer

My town:

Amberg

,

Bavaria,

Germany
House-sits already booked
From 16/05/2022 to 11/09/2022
Favorite destinations
Africa
Asia
Australia
Belgium
Canada
Switzerland
Germany
Spain
Europe
France
United Kingdom
Italy
Morocco
North America
New Zealand
Oceania
South America
United States
Favourite pets and animals
Other
I know how to take care of a garden
More information
I like cats, and most cats like me too.

I am 46 years old, a lawyer from Germany, but no longer working in that field. Instead, I am moving around the world, collecting stories and writing about them. So far only on a blog. No book yet, but I keep promising to change that. I guess I need a really loooong house sit in a remote location. :-)

I have been house/cat sitting for three years already. I speak English, German and Spanish, and I could reactivate my French or Italian if need be. But I am also happy to house sit in other countries (for example, I once spent a winter in Ukraine).

Recently, I have taken up another university degree, in history, which I study by distance education. That means that I have to spend long hours on the couch, reading, which the cats love.
Although I would obviously like to go for a walk once a day and explore the town or area, I am not the kind of house sitter who uses the house sit as a base to explore the whole country and is gone all day.

Thank you very much for considering my profile,
and please feel free to ask anything that's on your (and the cat's) mind,
Andreas
Endorsements
By Paula & Marcel, on 03/13/2022
Andreas took care of our cats for three weeks. He is a very interesting and nice person. Our cats really enjoyed their time with him, and he seemd to also have enjoyed his time with them :) Andreas sent us regularly pictures of the cats and informed us how everything was going during our absence. He spent a lof of time with the cats but also enjoyed the region. We were also very happy to come back to a nice tidyied and cleaned home with two satisfied cats. We can totally recommend Andreas and we would be happy to welcome him at our home again!
By Susanne S., on 04/13/2021
Andreas ist a very caring cat-and-House-Sitter. Andreas is a particularly attentive, reliable and experienced catsitter. We skyped twice beforehand and immediately had a good feeling. He arrived the day before. This was really good for the cats and the general organisation and the handover. We had a very good time and showed him around. Lilli received a medicine from Andreas every second day without any problems and he regularly reported to us the daytoday-life with the two. On top of that, our plants looked better when we got back ... and we were only gone for 2 weeks! We recommend Andreas in every way and we would be very happy to welcome him again.