My partner Simon and I have been travelling the world for over six years with just carry-on luggage. Packing light has made our travels so much easier, especially when we housesit. When you are staying in someone else's home, you never know how much storage space you'll have for your clothes, so taking less makes sense. Other advantages are being able to travel on public transport without huge suitcases weighing you down, saving money on checked luggage fees, and saving time at airports.
It may seem daunting at first, but travelling carry-on only doesn't have to be difficult.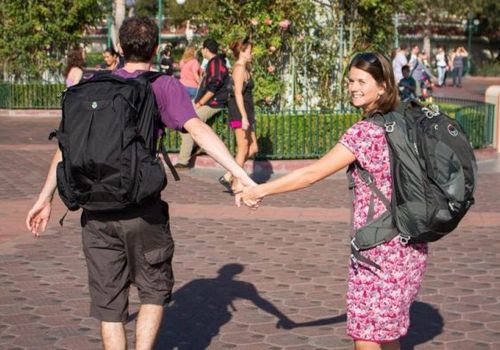 It doesn't matter how long your housesit is for - only pack enough clothes to last one week and then do laundry. This is easy when you are housesitting rather than staying in hotels, as it's likely you'll have access to a washing machine. If not, you can hand wash clothes in a sink or use a local laundrette – however the home-owners do it.
2) Mix and Match Your Clothes
Ten-to-fifteen items of clothing are enough for any trip. I travel with 3 tops, 3 bottoms, 3 dresses, 2 workout outfits, and 2 warm layers. The trick is to make sure all of your clothes go together so that you can mix and match them to create different outfits. You can use accessories like jewellery, scarves, and hats to change up your look, but the pets you'll be looking after really won't care what you wear!
Shoes are heavy, so only pack 2-3 pairs. If you have dog walking duties, make sure one pair is comfortable and practical—trail runners are ideal (with Goretex in rainy climates) and are lighter than walking boots. I also travel with hiking sandals and ballet flats for a smarter look.
Packing cubes are amazing! They allow you to fit much more into your luggage and keep your things organised. If the housesit owners haven't provided you with much storage space, your packing cubes can work as drawers—one for underwear, one for clothes, one for electronic accessories, etc.
If you are flying, you'll need to keep your liquids in containers under 100ml, and they all must fit into a single ziplock bag. To get around this restriction, pack solid toiletries. My favourites are Lush shampoo bars, which work as soap and shampoo and last for ages, and natural crystal deodorant. You can also find solid perfume, sunblock, cleanser and more.
I work online so I travel with a lot of electronics, but most people don't need much. A smartphone will be your most helpful tool as you can use it to take photos, check your email, plan your travels, find your way around, listen to music and much more. If you spend a lot of time online, you might prefer the bigger screen of a tablet. Unless you are working online or are a serious photographer, you probably don't need a laptop.
The one electronic item definitely worth packing if you are a bookworm is an e-reader. Books are heavy, but an e-reader fits thousands of books onto a device smaller than one paperback. My Kindle Paperwhite is the best thing I bought for my travels.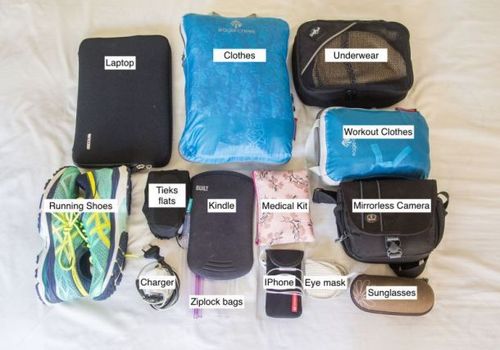 6) Wear Your Bulkiest Items on Travel Days
Save space and weight in your luggage by wearing your bulkiest items, such as walking shoes, jeans, and jacket, on travel days. This is especially useful when travelling to cold climates.
7) Don't Pack Anything "Just in Case"
Every item in your bag needs to earn its place by being used regularly. Don't pack things that you think you "might" need. You can always buy it if it turns out you need that umbrella or extra sweater after all. As housesits are better equipped than hotel rooms, you'll need even less than you would for regular travel.
By following these basic principles, you can travel light for any trip. Why don't you try it for your next housesit? It will make your travels so much easier and cheaper.
You can see my carry-on packing list for ideas of what to pack. Another great example is Amanda of Burger Abroad, a full-time house sitter who travels with a tiny backpack that weighs just 5 kg. To learn more about how to travel carry-on only for any trip, see my book The Carry-On Traveller: The Ultimate Guide to Packing Light on Amazon.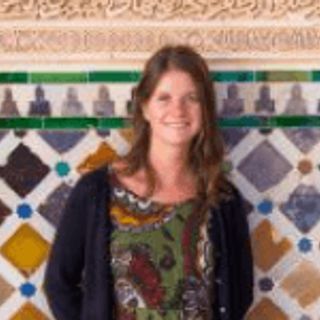 Erin McNeaney
Never Ending Voyage Erin McNeaney sold everything she owned and left the UK in 2010 to travel the world with her partner, Simon. On her travel blog, Never Ending Voyage, she writes about slow travel, hunting down the best vegetarian eats, how to pack light, and the ups and downs of life as a digital nomad. She has been a housesitter in six countries from Argentina to Japan—the most adventurous was looking after 14 animals on an off-the-grid farm in Spain.