Back
Gaya V. Not a subscriber
Discover Gaya V.'s profile, from Kuala Lumpur (Federal Territory of Kuala Lumpur, Malaysia)
Gaya V.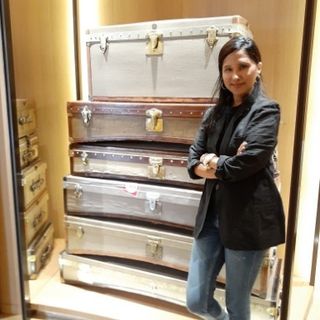 Trust Profile
6
Email address checked
Passport
Proof of domicile not yet sent
Bank details checked
ID
My age:

43 years

My occupation:

Self employed

My town:

Kuala Lumpur

,

Federal Territory of Kuala Lumpur,

Malaysia
Community opinion
7

5

5

4

4

2
Endorsements
By Carolin C., on 08/23/2023
Gaya est charmante, attentive, discrète et autonome. Elle s'est parfaitement occupée de notre chien Ihjo (dogue des canaries) et des consignes de sécurité qui ont été données par nous. De plus elle a du faire face à des soins de santé de dernière minute suite à une otite de Ihjo et elle a très bien géré et nous a souvent donné des nouvelles de l'évolution. Nous sommes ravis de de lui avoir confié notre maison impeccable et notre chien "de caractère" pendant une longue période de 3 semaines. Nous espérons la revoir bientôt et la recommandons vivement à la communauté Nomador !
By Marie, on 08/17/2022
Highly trustworthy, independent, tidy and good to your animals!
It was an absolute pleasure to have Gaya to take care of our old demanding cat. She gave him all the attention and love he required. She even managed to give him his meds twice a day with no stress at all. Our cat was very serene and relaxed on our return.
Gaya took also great care of our home and let it immaculate.
Although there was no overlap and we couldn't spend time together, the house sitting was very easy to organize.
Look forward to having her here again in the near future, very highly recommended.
By Françoise C., on 07/16/2022
Gaya est une pet-sitter parfaite, je pense que mon chat la regrette :)
Gaya est très sympathique, très ouverte et attentive à vous rassurer.
La maison était en parfait état.
Elle peut avoir toute votre confiance.
By Lina B., on 12/12/2021
Gaya will love and take care about your pets as if they were hers. She will contact you in case of any problem (sickness or whatever) and strictly do what you tell her to do and she will regularly give you news about them. All this is very reassuring when you are far away. She also take care of your place at least as well as you if not better as far as I am concerned. Also my two little dogs are very fearful dogs that can look and be agressive towards unknown people especially ones who are afraid of them, they loved Gaya so much that they still look for her in the bedroom she used up the stairs. Gaya is definitely the best petsitter ever and a very intelligent and interesting woman. We are all very happy to know her.
By Lina B., on 10/06/2021
Gaya is definitely the best petsitter I ever had. We will welcome her as often as possible and it is a real pleasure to meet such a lovely women. She is sweet with my dogs and they love her. I feel secure when she looks after them and the house which, by the way, was perfectly clean. Again she had prepared a delicious dinner when I came back from holidays. You can safely go on holidays, all your instructions will be perfectly respected. Thank you again very much Gaya
By Lina B., on 08/30/2021
Gaya est la meilleure petsitter que nous ayons eues.
Elle a été très douce avec mes deux petites chiennes. Elle me donnait des nouvelles à chaque fois que je le demandais.
Quand je suis rentrée de vacances assez tard en soirée, elle m'avait même préparé un diner, ce que j'ai énormément apprécié car sinon je n'aurais rien eu à manger. Par ailleurs la maison était nickel chrome et bien rangée.
C'était un grand plaisir de discuter avec elle. C'est une personne si intéressante et adorable que je lui ai même proposé de rester quelques jours de plus avec nous pour profiter de la maison et lui faire découvrir les environs.
Il n'a pas été facile de ne retenir que trois pictogrammes pour la qualifier car elle a énormément de qualités à tous points de vue.
Vous pouvez lui confier votre maison et vos animaux de compagnie en toute confiance et en toute sérénité, tout ira bien.


Gaya is our best petsitter ever !
She was so sweet with my two little dogs... She would give news whenever I would ask.They loved her and were looking for her when she left.
When I came back late in the evening from my holidays she had cooked some meal for me. I appreciated it very much because otherwise I would have had nothing to eat. The house was very clean.
It was also a real pleasure to discuss with her and she is such an interesting and lovely woman that I invited her to stay a few more days to relax in the house with me and my dogs.
It was difficult to choose only three pictograms to qualify her because she was perfect in all respects.
You can definitely let your house and pets to Gaya and be relax during your holidays. Everything will be ok.
By Angeline D., on 12/31/2019
J ai été très contente de confier Nouchka a Gaya.
Gaya est une personne de confiance et m a régulièrement envoye des nouvelles et des photos, ce qui est très rassurant.
Gaya est également une personne très a l écoute, comprend que laisser son chat et sa maison n est pas chose facile.
Enfin Gaya est très sympathique et ouverte sur le monde.
Je recommande vivement Gaya.
By erika R., on 10/14/2019
Gaya s'est super bien occupé de nos deux chats durant les trois semaines où nous étions en vacances.
Elle a assuré pour faire les piqûres d'insuline pour notre chat diabétique. Nous avons eu des photos et des nouvelles régulièrement. L'appartement a notre retour etait très bien rangé.
Je recommande fortement !
Encore merci Gaya !
By Sandra P., on 09/01/2019
Gaya was perfect cat/ home sitter! My sensitive and picky old cat adopted her immediately. She is super friendly, she handled everything like a boss and when I came home I found happy cat and clean home! I strongly recommend her!
By Diane L., on 07/24/2019
Gaya est une personne très sympathique, elle a un excellent contact avec les chats et et très attentive à laisser les lieux en parfait état. Nous lui avons laissé nos deux chats et tout s'est très bien passé !! De plus Gaya donne fréquemment des nouvelles donc nous étions rassurés.
Gaya is a very friendly person, she has an excellent relationship with cats et she takes real good care of the places. We let her our two cats and everything went on really well. Moreover she gave us some frequent news, so we felt secured with her.