Back
Melia F. Subscriber
Discover Melia F.'s profile, from Lyon (Auvergne-Rhône-Alpes, France)
Melia F.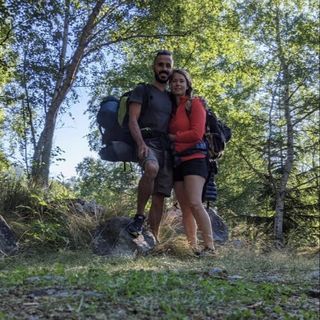 Trust Profile
6
Email address checked
Passport
ID card
Proof of domicile not yet sent
Bank details checked
ID
My age:

35 years

My occupation:

Travel agent

My town:

Lyon

,

Auvergne-Rhône-Alpes,

France
Travel companion(s)
Lili, 10 years, Cat, Parent
Fifi, 4 years, Dog, Parent
Languages spoken
German
English
Spanish
French
Portuguese
More information
Hello pet parents !

We are Melia and Jessy!
A couple in our early 30's enjoying life as much as we can! We are from France and Melia is also half American.
We both love to travel the world. We've done in separately before meeting and now want to continue together. We enjoy discovering new things all the time, seeing new places, meeting new people, tasting new foods...We do this even around home. We are curious about life and everyhting that goes with it, love to meet locals and help out in the local life.
Melia used to be a travel agent and just finished a cooking school. She likes horses and dogs, traveling, food from all over the world, quiet moments...
Jessy is a steeplejack (rope access technician), he is very active. Likes to be outside and help out. He likes building things with wood generally, in the garden, and walking with nature, especially with dogs.

We both love animals and the energy we can share with us. We miss being around animals while traveling and especially enjoy doing some housesitting at that time.

We are staying in the US for three months and have already a petsitting stay planned in Arizona for the month of July.
We are currently taking care of a house in Western MA with a dog and a cat.

Looking forward to hearing from you :)

Melia and Jessy
Endorsements
On 06/04/2022
1 person does not recommend this member
By Lucie B., on 05/08/2022
Excellente première expérience avec Melia et Jessie ! Très sympas, ils nous ont donné régulièrement des nouvelles et ont pris bien soin de notre chat et de l'appartement (qu'on a retrouvé plus propre qu'en partant). Je recommande !
By pierre L., on 09/19/2020
Melia est une personne merveilleuse
Tres efficace par ailleurs . Elle a très bien géré la maison et fait ce qui était demandé. Parfaitement.
Elle est de plus: extrémement généreuse et, quant à la conversation, passionnante. elle a beaucoup voyagé et c'est un régal de l entendre.
Ce n'est pas tous les jours qu'on rencontre une personne de cette dimension.