Whether it's windy, rainy or snowy, you need to walk your dog to allow them to stretch their legs and take care of their business. Dog walking is essential. It fulfills their physiological needs in addition to giving them a change of scenery to stimulate their senses. Walks actively contribute to the happiness of your pet. Whether you're a new dog owner or a more seasoned one, here are six tips for a successful walk with your furry friend!
Even if you're lucky enough to have a yard, you still need to walk your dog every day. The sensory stimuli aren't the same. Your dog will have an opportunity to smell new scents, enjoy a change of scenery and meet other dogs. An animal can get bored in your yard, which can lead them to dig or become destructive. A dog walk of at least twenty minutes is a special time for your pooch. All their senses are stimulated, and this contributes to their well-being.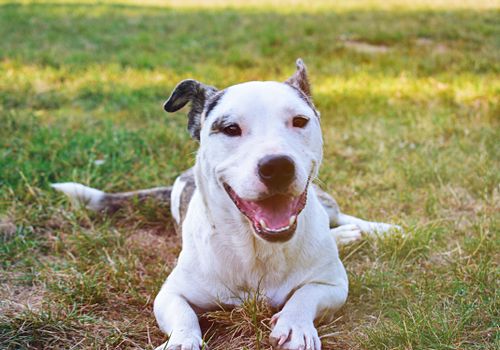 2. Allow your dog to sniff
You should let your four-legged friend sniff during their walk. Smell is a primal need. Dogs need to be allowed to explore with their noses. When they focus on a particular smell or place, don't pull on them;. Stop and give them time. This sniff session provides a great deal of mental stimulation, which allows for the creation of a large number of cerebral connections. Your dog will better understand their environment for everyday enrichment.
3. Take your time and be patient
Many owners cut their dog walking short because they're in a hurry, it's cold or they have something else to do. However, it's important to take your time. Dog walking is a destination unto itself for your pet. It's for their well-being that you're investing this time. As previously mentioned, your faithful companion needs to touch and feel, etc. If your pooch is very young, they're still learning to walk on a leash, which also takes time.
4. Introduce your dog to other animals
Daily walks also allow your dog to have a social life. Living with just humans isn't always easy. When your dog crosses paths with another dog, they can communicate with each other through canine play. All of this promotes their physical and emotional well-being. If your pet is always alone, they can become over-sensitive or depressed. If you don't have friends with dogs, you can go to a dog park or sign up for group dog walks.
5. Buy the right equipment
Another important point for successful dog walking is having the right equipment. It has a direct impact on your physique in addition to your dog's physique. A harness, collar, the right shoes, a lanyard...the idea is to avoid jolts to you and your dog. If their neck is strained, it'll be hard for them to enjoy their walk.
6. Remain attentive to your dog's needs
Finally, an enjoyable dog walk requires you to be in tune with your pet's needs. Don't be glued to your phone. Focus on them. A walk isn't just for allowing your pet to do their business, but also to share in an enjoyable experience. It's important to remain alert, so you're not surprised by another dog, car or bike speeding past.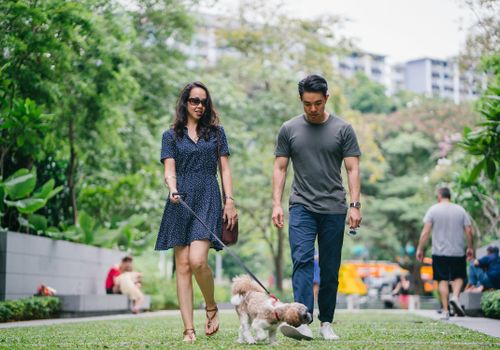 Is a harness or collar better for walking your dog?
A collar is a great solution for walking in the country or for small dogs. It allows you to attach a leash and add an identification tag. You can easily find your pet if they run away or if you lose them. For dog walking, a collar is a simple yet practical accessory. To choose the correct size, measure around your pooch's neck with a tape measure (in cm).
For large or tall dogs as well as for walks in the city, choose a harness. You can also use it for small dogs when walking downtown or on pedestrian-only streets. This accessory is perfect for teaching them to walk on a leash, especially puppies. For an adult dog, a harness prevents pulling, since it offers greater freedom of movement. By limiting strong pulling, you can better control your pet.
Use a dog sitter to walk your dog
A dog sitter offers in-home dog care. Whenever you're unavailable for a weekend, a week of vacation or a business trip, a dog walker will make sure your dog gets outside. They'll take them to dog parks in your city, so they can socialize and run free. They'll also take care of feeding, if necessary, or playing with them and providing medical care if need be. Are you looking for dog training? Choose a dog sitter who also offers this type of service, so you can kill two birds with one stone! These pet sitters are passionate and will be happy to take care of your dog whenever you're busy or need to leave home.
On Nomador, make contact with dog sitters near you in total safety. We verify the identity of all our members, and you can communicate with pet sitters through our internal secure messaging platform.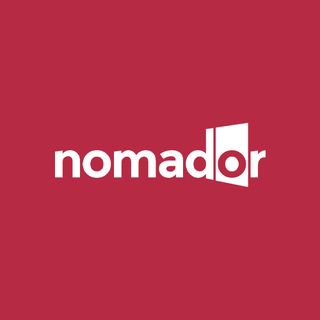 Nomador
Nomador is an international home-sitting platform. The Nomador community puts people in touch with home-sitters and home-owners they can trust. It is dedicated to people who need to find a solution to leave with peace of mind by entrusting their house (for family holidays, trips abroad or business travels), and people who travel through the world in exchange for lodging (watching over a home).