Back
Russell T. Not a subscriber
Discover Russell T.'s profile, house-sitter from Wittersham (England, United Kingdom)
Russell T.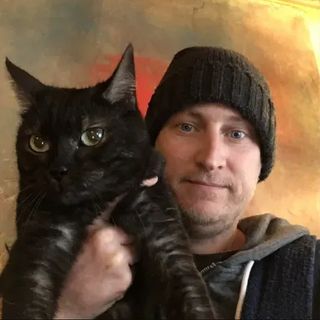 Trust Profile
8
Email address checked
Passport
Other proof of domicile
Bank details checked
ID
My age:

45 years

My occupation:

Web Developer & Designer

My town:

Wittersham

,

England,

United Kingdom
Community opinion
7

6

5

5

4

3

2

2
Endorsements
By nancy S., on 03/05/2020
WOW, this was a wonderful experience for me. I found Russel and America to be very responsible,
Russel came a few days ahead of my departure, we talked about all aspects of living in my house and the area. I found Russel to have a calm zen nature.
He kept me notified as to how things were and when there was a problem with the wood stove he called the builder and contacted me.
I felt completely at ease knowing he would notify me and take care of any issue.
I am sorry I did not get to meet America as she was dealing with family issues. I look forward to
meeting her next time.
Yes we are already setting a date.
It only lets me choose three badges and I picked 6 commited to security, interested in culture in area,and eco-friendly.
By nicole, on 09/17/2019
Un grand merci à América et Russel qui m'ont permis de partir tranquille ; des nouvelles données régulièrement et de petites attentions bien agréables. J'ai été ravie de cet échange et j'ai retrouvé ma maison et mon chat comme si j'étais partie la veille !
By Pascal S., on 08/22/2019
América et Russell,

un grand merci à vous deux pour votre présence d'un mois chez nous pour vous occuper de Dali et de la maison.
Je n'ai jamais vu Dali aussi heureux avec d'autres personnes. Même la toiletteuse à fait des éloges sur eux et sur le bien-être de Dali.
Nous avons retrouvé la maison et je jardin impeccable.
C'est avec un grand plaisir que nous confirions de nouveau Dali à América et RUssell.
Nos mots seront jamais à la hauteur de notre satisfaction.
On 08/21/2019
1 person does not recommend this member
By aurélia J., on 05/01/2019
America et Russel sont un couple très sympathique, qui inspire vraiment confiance. Ils ont très attentifs au bien être de notre chien Sultan. Ils nous ont donné des nouvelles de lui pendant notre séjour et nous ont laissé la maison impeccable et un chien en plein forme ! Merci à eux ! Nous n'hésiterions pas à faire de nouveau appel à leurs services ! Nous ne pouvons que vous les recommander.
By Lina B., on 04/12/2019
Russell and América stayed 1,5 weeks in my house and took care of my death cat Jason. The first night I was still there. They have the talent to makes themselves comfortable in the house while not overtaking (while is was still here). I appreciate this very much. Our communication before, during and after the stay was super easy. And after 1,5 weeks my house was as I left it. I would really like to have them in my house again. And I think Jason too.
By Andrea B., on 04/03/2019
America and Russell took very good care of our Marlo and the house during our 6 month absence.
After our cat got injured by some neighbour cat fights, they took him to the vet and applied recommended medical treatments.
The communication was very easy and nice. We felt comfortable as during all the time, they kept us always up-to-date.
A very nice habit of America and Russell was to share current photos of Marlo via WhatsApp from time to time. It was always a great pleasure for us to receive these photos along with a brief chat.
When we came home, we found the house as we left it - everything in right place and good order.
Most of all, we found our cat happy and looking very well.
We got to know America and Russell as extremely responsible, reliable, cat-loving and friendly persons and we would entrust them our cat and house anytime again.
Dear America, dear Russell, many thanks for everything and all the best for your future!
On 06/24/2018
1 person does not recommend this member
By marie M., on 05/21/2018
Russel et America ont été absolument parfaits à tout point de vue. Ils se sont parfaitement occupé de mon petit chat, ont laissé la maison dans un état impeccable, ils m'ont envoyé des photos et des vidéos très régulièrement et m'ont même donné quelques conseils pour que je prenne encore mieux soin de lui.
Je recommande très vivement ce couple adorable.
By Ondine F., on 11/20/2017
They were great, sorry it took so long to put comments but life is completely manic.
By Cosette M., on 08/11/2017
Avec un peu de retard je voudrais remercier Russel et America pour toute l'attention qu'ils ont donné à Casper notre chat cheri que nous leur avons confié pendant 5semaines .Il a été dorloté et a même fait des câlins avec eux dans leur lit!????Nous avons eu des nouvelles et des photos tous les deux ,trois jours ce qui nous a énormément rassuré car c'était la première fois que nous avons fait appel à votre site ! Nos tortues ont également été gâtées.Russel a arrosé les fleurs et entretenu la pelouse avec bienveillance. Un super repas nous attendait a notre retour!!Nous les recommandons pour la suite de leurs housse sit.
By dikee P., on 02/12/2017
Nous avons eu l'immense plaisir d'accueillir Russel et América dans notre maison. Nous sommes parti l'esprit tranquille. Ce sont de personnes merveilleuses et soucieuses du bien être de nos animaux ainsi que de la propreté de la maison. Je recommande vivement ce couple si sympa. Je les accueillerai à nouveau avec grand plaisir.
Merci encore pour tout
Magali
By ALEX, on 02/11/2017
America et Russell ont veillé sur nos animaux d'une façon professionnelle. C'est grâce à leur compétence qu'une otite de Dian a pu être soignée rapidement , tout retard aurait eu de graves conséquences.
America nous envoyait des comptes rendus tous les 2 jours avec des photos de nos animaux heureux , souvent près de Russell, cela ne trompe pas !
Si nous repartons longtemps nos animaux seront heureux de les revoir!
Nous recommandons vivement ce couple charmant.
By Wendy, on 11/28/2016
Russell and America completed a very good house sit for us. They cared for our long haired cat, ensuring she was groomed daily, looked after the garden and plants, cooked us a meal on our return and would most certainly highly recommend them as a house sitting partnership.